Career opportunities are presented in the language received.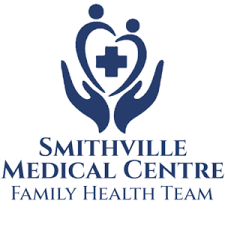 We are a dynamic and high performing Family Health Team located in rural Niagara.  Our team is comprised of eight physicians, seven allied health practitioners (nurse practitioners, mental health workers, dietician, nurse educators), nurses, receptionists, medical and allied health learners, and support staff, all under one roof.  Our goal is to provide excellent team-based primary care to improve the health, well-being, and quality of life of our patients and local community.  We are committed to creating a work environment that is sustainable and satisfying for all members of our team.
As the Executive Director, you will be responsible for leading, guiding, and supporting this mission.  The Family Health Team (allied health practitioners and supports) and Smithville Medical Associates (physician group and supports) are legally distinct organizations, but function as a unified team.  You will report to the Board of Governors of the Family Health Team, as well as to Smithville Medical Associates.
You will bring your proven leadership skills, along with financial and risk management expertise, to guide the ongoing evolution and strategic direction of the team.  Your superior communication and collaboration skills will help build strong connections with key external partners and stakeholders as well as support and inspire the staff team.
Your major responsibilities will include:
Act as a resource to the Board of Governors and Smithville Medical Associates including compliance with relevant legislation and regulations, risk management, and policy development
Financial management including budgets, reporting, and oversight of all financial matters
Human resources including hiring, firing, onboarding, organizing and developing staff teams
Operational oversight to ensure optimal day-to-day functioning of the team and premises
Lead and develop an organization that can best support the health, well-being, and quality of life of our patients and local community
What you can expect from us:
A caring and supportive work environment that is a joy to be a part of
A collaborative and inclusive team that wants everyone to succeed
Mentorship and professional development that allow you to grow as a leader
A competitive compensation package with starting salary $102 200 – $107 200, HOOPP pension plan and comprehensive benefits
What we need from you:
Minimum of five years of experience in health care management, or commensurate related education and experience (required)
Risk and financial management expertise (required)
Master's Degree in Health Administration or related discipline (asset)
Experience leading an interdisciplinary team in a primary health care setting (asset)
Please submit a resume and cover letter to wendy.fisher@smithvillefht.ca.
We are accepting applications up to January 15, 2024, and are looking for a successful applicant to start March 4, 2024.
We are committed to creating an inclusive workplace and are proud to be an equal opportunity employer.  All qualified applicants will receive consideration for employment without regard to race, ethnicity, religion, gender, gender identity or expression, sexual orientation, disability, or age.