As we look back on 2022, and as many of our peers and colleagues have been saying recently, never has the importance of leadership in healthcare been more important. At the College, as we strive to provide best-in-class leadership development, member support and career advancement services for health care leaders across the country and across the continuum, we are focussed on being true to our core purpose and doing our part to build capacity for better care and transformation in Canadian healthcare.
As an update to last year's infographic, we are focusing on same three north star metrics (a north star metric is a measurement that's most predictive of long-term success) that provide evidence of our ongoing impact and relevance, and more importantly, the engagement that has been created with health leaders. For the third consecutive year, we have secured more than 700 new members, with an all-time high of 738 this past year, culminating in over 2170 new members in the past 3 years. Equally gratifying is the fact that 50% of our members hold the CHE designation and in the past year we registered an all-time record number of CHE applicants at 272. This is the fourth consecutive year of record numbers for the CHE designation. Our professional leadership development services continue to be in high demand as shown by the number of 360 assessments we have delivered in the last three years totaling over 1790, with 767 in 2022.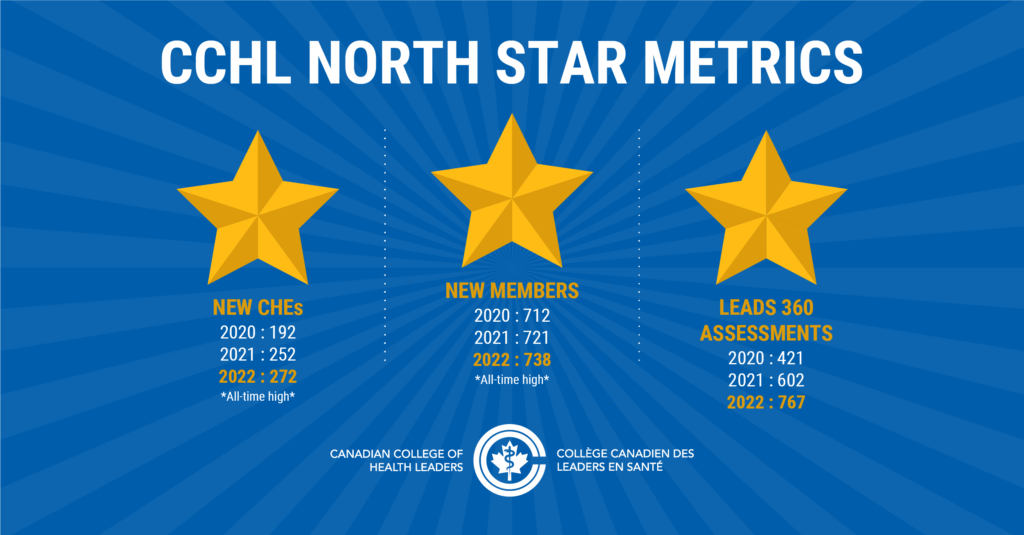 Our team is also proud of the progress on many other fronts in 2022 and the great response and engagement of our members:
The first two graduates of the revised Fellows program will be crowned in June 2023
Creation and launch of the inaugural francophone conference, Colloque francophone des leaders en santé, hosted in person in Montréal, QC
Creation of a new program called the National Conversation
Refresh and launch of a new comprehensive mentorship program hosted on the CCHL Circle
Exceeding the target of 1700 members engaged on the CCHL Circle
Hosting 8 virtual and in person HPRS roundtable sessions
The return of organizational leadership development programs and selling out of several open enrollment LEADS programs
A new direction leading to the launch of our new CCHL National Conference to be hosted in 2023 under the theme REUNITED!
Continued robust number of downloads of Healthcare Management Forum reaching over 220,000
Our chapter volunteers have continued to support and engage their members through a wide range of events. We thank the Chapter executive members for their commitment to advancing health leadership and life-long learning.
Some of you may have read the most recent article written by our Director of Research and Leadership Development, Jaason Geerts, PhD, that was published in the Globe & Mail. If you missed it, you can access the article here. This article captures our collective health human resource challenges going into 2023.
Whatever you need, whenever you need it, please let us know and we will do our best to support you and help you and your team pursue new leadership opportunities.
As always, my sincere thanks to our national team, chapter volunteers, corporate partners and Board of Directors for your commitment and engagement.