Summit Objectives
Offer safe, collaborative, and interactive learning spaces to address leadership challenges, new demands, and expectations;
Facilitate the exchange of bold ideas, information, and lived experiences that can be used to identify effective ways to execute and sustain complex change;
Showcase examples of new technologies, innovative approaches, and new developed coalitions to pivot strategy during crisis, that may set the stage for health system transformation; and
Create a sense of community and develop specific action items and follow up ideas for the community.
Expected Outcomes
Summit participants will:
Build strong networks as well as an improved sense of community and support from other leaders facing the same or similar challenges;
Uncover tangible practices, tools, and ideas that can be implemented into their work settings;
Explore innovations that will influence leadership, system, and clinical practice change to provide better care;
Identify health leadership traits of effective, bold, and innovative leadership to assist with embracing change to champion healthcare improvement; and
Engage with other leaders to develop coalitions to drive effective change.
Theme
Building the capacity to be innovative
As leaders, it is imperative to encourage our teams to be innovative and creative in finding solutions for the complex challenges faced by healthcare organizations. We need more leaders who can create the readiness for innovation and the room to onboard new technologies, models of care, and other improvements rapidly and seamlessly. This enables organizations and their leaders to develop competencies and skills not only to generate innovations but also to implement them through a collaboration and change management process.
The 2023 Ontario Health Leaders Summit will focus on the following elements of building capacity to be innovative:
Increasing innovative capacity (personal or organizational) by creating the means to surface, understand, and research problems;
Creating cultures of creativity to encourage thinking out of the box at all levels;
Building and sustaining relationships inter-organizationally and with communities that offer pathways to source diverse perspectives and connections to non-traditional solutions; and
Developing the leadership skills and capabilities required to recognize and implement innovations rapidly and seamlessly through collaboration and change management.
Registration
Registration for the Ontario Health Leaders Summit closed on April 14, 2023.
| | |
| --- | --- |
| Rate | Fee |
| Member |  $115.00 + tax |
| Non-Member |  $175.00 + tax |
| Speaker |  $85.00 + tax |
| Patient |  $30.00 + tax |
*For the Patient Representative rate, please send information about the patient organization you represent to conference@cchl-ccls.ca.
Join the College today for only $175 for the first year and get reduced rates on CCHL events. CCHL membership details available here.
Program-at-a-glance
Tuesday, April 18, 2023
12:30 - 12:45
Plenary – Land acknowledgement, welcome, and opening
12:45 - 14:00
Plenary – Building the capacity to be innovative
14:00 - 14:15
 Break
14:15 - 15:15

Breakout sessions

1. Shared health record leading to system transformation
Hosted by: The Northwestern Ontario Chapter
Track: Digital health innovations

2. Bringing population health management to life in Ontario
Hosted by: The Southwestern Ontario Chapter
Track: User-centeredness in innovations

3. Addressing and understanding anti Indigenous racism in healthcare settings
Hosted by: The Eastern Ontario Chapter
Track: Culture of innovation

15:15 - 15:30
Break
15:30 - 16:30

Breakout sessions

4. Canadian patients want more: Utilizing technology and digital solutions in providing empowerment, engagement, and entertainment (the 3 "Es") at the bedside
Hosted by: The Hamilton and Area Chapter
Track: Digital health innovations

5. Improving clinical outcomes with digital patient engagement and remote care monitoring
Hosted by: The Neon Lights Chapter
Track: User-centeredness in innovations

6. Creating a culture of innovation in your organization – Starting with yourself!
Hosted by: The Greater Toronto Area Chapter
Track: Culture of innovation

16:30 - 16:40
Break
16:40 - 16:50
Plenary – Closing remarks
* Program is subject to change without notice
Keynote Session
Everyday habits to create a culture of innovation
Despite billions of dollars of investment, surveys show that 90% of companies are dissatisfied with their innovation performance. Why? We believe that it's because they have failed to address a huge underlying obstacle: the day to-day routines and rituals that stifle innovation. Organizational inertia or "business as usual" is powerful.
Fortunately, it's possible to "hack" this problem. Drawing on the behavioral-change literature and on our experiences working with dozens of global companies, including DBS, Southeast Asia's biggest bank, we've devised a practical way to break bad habits that squelch innovation and to develop new ones that inspire it. Like most hacks, the approach isn't expensive, though it does take time and energy.
In this interactive discussion, Innosight Associate Partner Natalie Painchaud will share practical tools and approaches to encourage new behaviours that inspire innovation. She will share stories from leading global organizations on how they use this approach to unleash innovation within healthcare organizations.
Specific discussion topics:
• An overview of the five behaviours that drive innovation success
• Guidance on how to set up interventions we call BEANs, shorthand for behaviour enablers, artifacts, and nudges
• Stories of how leading companies, including DBS Bank in Singapore, defined it's desired behaviours, identified blockers and put in place BEANs and what they learned along the way
• Practical tips and an interactive session to help you identify and address the barriers facing your organization and how to start the journey to create your desired culture
Speaker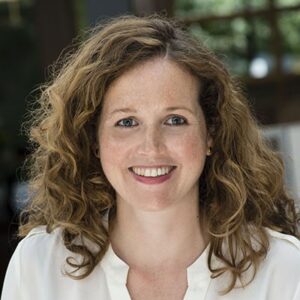 Natalie Painchaud – Associate Partner & Executive Coach, Innosight, Huron's strategy and innovation business
Natalie is an Associate Partner at Innosight, and an experienced strategy and innovation consultant and coach. Natalie has been a faculty member of an accelerated leadership development program for one of the world's largest healthcare companies for over 6 years and collaborated on the initial design of the program. She has extensive experience developing leaders, and has more than 15 years of experience in helping Fortune 500 companies develop the strategies, capabilities, and early proof points required to successfully innovate.
Natalie is coauthor of the new book " Eat, Sleep, Innovate: How to Make Creativity an Everyday Habit Inside Your Organization" (Harvard Business Review Press, October 2020). Natalie is also the coauthor of the HBR article " Breaking Down the Barriers to Innovation."
Natalie has coached teams to develop new business models and designed and delivered interactive learning experiences to teach innovation concepts. As a consultant, Natalie has worked with commercial teams to identify new business models to fill strategic portfolio gaps.
Natalie's success in developing leaders is rooted in her own experience doing on-the-ground innovation. An early member of Innosight, Natalie has worked all over the world in more than a dozen industries and specializes in healthcare and consumer goods. Natalie most recently immersed with a leading bank in Singapore to design a culture of innovation to enable their digital transformation.
Prior to Innosight, Natalie was a Senior Associate with an MIT-founded executive-education company. In this position, Natalie led a team that developed and presented technology-based prototypes and business cases to hundreds of global CEOs and CIOs who were invited by the sponsoring companies, HP and Oracle.
Natalie holds a BA with distinction in Industrial Relations from McGill University in Montreal and an Advanced Certification in Executive Coaching from the Columbia University Coaching Program.
Breakout Sessions
1. Shared health record leading to system transformation
Hosted by: The Northwestern Ontario Chapter
Track: Digital health innovations
The Northwestern Ontario Chapter will explore at how technology can play a role in system transformation. The purpose is to talk about a successful data sharing story, encourage discussion around other innovations participants may have been a part of, and discuss the next steps forward to ensure success.
When Electronic Health Records (EHR) started being incorporated into health settings, the hospitals within the Northwestern Ontario decided to implement one system in collaboration with each other. This was unique, in that it was the only group of hospitals in the province that made this decision in an integrated way. Over the past decade, the 12 hospitals in the region worked together on this singular system, with expanded read-only access to other health partners. This has helped primary care, home care and long-term care follow patients while they are in hospital, and to connect back during discharge. This has improved patient care, because timely information allows these system players to make preparations to best support the patient and reduce unnecessary readmission to the hospital setting.
In 2019, engagement started with long-term care homes and some primary care teams on the expansion of full access to the same EHR. The purpose to be a single health record that will follow the patient between health settings. The expansion in 2023 will be driven by four Ontario Health Teams (OHTs). These include the Kiiwetinoong Healing Waters, All Nations Health Partners, Rainy River District and City and District of Thunder Bay OHTs.
Presenters
James Anderson – Family Health Manager at Dilico Anishinabek Family Care
Jessica Logozzo – Executive Vice President, Regional Transformation and Integration at Thunder Bay Regional Health Sciences Centre
Brianne Wood – Associate Scientist at Thunder Bay Regional Health Sciences Centre
2. Bringing population health management to life in Ontario
Hosted by: The Southwestern Ontario Chapter
Track: User-centeredness in innovations
Ontario's healthcare system is undergoing significant transformation and Ontario Health Teams (OHTs) are key to this change. OHTs will be asked to use a population health management (PHM) approach to be clinically and financially accountable for the health and wellbeing of a full attributed population, which will require a fundamental re-thinking of how we govern, fund, and deliver health care services. Through co-design with patients/clients, caregivers, and providers, the Middlesex London OHT has continually asked, "How might we design a system that effectively and equitably meets the needs of all 525,829 members of our attributed population?". Learning from leading health systems around the world, we identified 2 key PHM enablers absent in Ontario today: 1) access to a detailed population registry and 2) a shared care record. In a formal partnership with the Sarnia Lambton OHT (and open call for participation from all OHTs) a project was launched to design a solution.
Grounding our work in the day-to-day experiences of patients/clients, families and providers, the following key principles were identified: 1) digital systems need to support real-time (or near-real time) sharing of information so people don't need to share their information more than once; 2) providers want to see information in the record system of their choice with no additional log-ins necessary. As a result, we are now developing an inter-operable digital solution that will support real-time sharing of information between commonly-used clinical record systems across the province and generate a population registry that can be used for PHM.
Speakers
Sarah Jarmain – Clinical Lead, Middlesex London Ontario Health Team | Physician Lead, Thames Valley Mental Health and Addictions Collaborative Care Network | Chief of Staff, VP Medical and Academic Affairs, St. Joseph's Healthcare Hamilton
Dr. Matthew Meyer – Senior Director; Office of Population Health Management and Health System Partnerships; Assistant Professor, Department of Epidemiology and Biostatistics; Western University
3. Addressing and understanding anti Indigenous racism in healthcare settings
Hosted by: The Eastern Ontario Chapter
Track: Culture of innovation
The goal of this session is to have a forum of discussion between Ontario health leaders and Indigenous leaders. This discussion will be informed by a presentation of the Native Women's Association of Canada's new toolkit that lays out needed considerations for all levels of health care practice for Indigenous People. Once this toolkit is presented the idea is to walk through how Ontario Health Teams are called to consider Equity, Diversity, Inclusion, and Indigenous perspectives with everything we do across their partnerships, including involving Lived Experience Partners. Once that context is laid out then the panel, including Indigenous People, will work through certain examples where they have found the need for this new toolkit. Once these cases are laid out for the audience, then participants are free to ask how their healthcare situation or organization could interact with this new toolkit.
Speakers
Marisa Blake – Senior Project Officer, Health Unit, Native Women's Association
Lee Allison Clark – Director of Health, Native Women's Association of Canada
Elgin Pecjak – Senior Researcher, Health Unit, Native Women's Association of Canada
Matthew Graveline, CHE – Project Manager, Digital Health, Ottawa West Four Rivers Ontario Health Team
4. Canadian patients want more: Utilizing technology and digital solutions in providing empowerment, engagement, and entertainment (the 3 "Es") at the bedside
Hosted by: The Hamilton and Area Chapter
Track: Digital health innovations
With a focus on technology and digital solutions, our presentation will provide a review of the current healthcare literature on consumerism and patient expectations regarding technology and digital solutions within the healthcare system. We will frame these findings within the "3Es" (Empowerment; Engagement; Entertainment) and highlight the opportunities and benefits available to improving the healthcare experiences for patients while in hospital.
Our methodology and approach will present key findings from a literature review with qualitative/quantitative evidence to support the evolving paradigm shift in patient expectations regarding the gaps and opportunities within the healthcare system, where technology and digital solutions can meet patient/consumer expectations. Our team will also summarize a number of patient survey responses and engagements that capture their priorities and expectations of the healthcare system. Items included (but not limited to) will include bedside functionality; user experience (UX) and user interface (UI); core/essential applications and potential future solutions.
Our summary will highlight key findings, and testimonials from interviews with patients and PFACs (Patient Family Advisory Committees) that will provide insight to current system gaps, and lessons learned regarding patient engagement and empowerment.
Our conclusion and recommendations will provide a summary of key patient expectations and provide recommendations on how best to move technology and digital solutions forward within organizations.
Speaker
Peter Varga – Chief Transformation Officer, HealthHub Patient Engagement Solutions
5. Improving clinical outcomes with digital patient engagement and remote care monitoring
Hosted by: The Neon Lights Chapter
Track: User-centeredness in innovations
The pandemic has caused significant care delivery backlogs in Ontario. Hospitals are challenged to increase throughput while maintaining effective, high quality, and patient-centred care. Digital transformation is an exciting approach health systems use to address many current challenges and empower patients to be active partners in improving health.
In 2021, Sault Area Hospital and SeamlessMD joined forces to provide a Digital Patient Engagement and Remote Care Monitoring program that has improved satisfaction and clinical outcomes for over 1000 patients to date.
In this breakout session, participants will learn:
• The activities, methods, and innovations of Digital Patient Engagement and Remote Care Monitoring
• How a hospital implemented a digital health strategy in 13 clinical areas across surgery and mental health with patient and family involvement
• Novel electronic medical record integrations that streamline clinical workflows and lead to system changes
An innovation leader and industry expert will share lessons learned based on successful coalitions developed between Sault Area Hospital, SeamlessMD, and Meditech. Quantitative data will illustrate results achieved, including a 21% reduction in length of stay and 32.3% reduction in Emergency Department visits among surgical patients. Qualitative analysis will provide insights into engaging others, increasing patient confidence, and reducing anxiety during care delivery. Implementation practices will be also be discussed in terms of informed consent, patient adoption, clinician workflows, and handling staff resource constraints.
Digital health innovation is at the heart of contemporary systems transformation. However, strong public-private partnerships coupled with effective change management approaches are critical to future success.
Speakers
Dr. James Chan – Director of Innovation, Sault Area Hospital
Dr. Joshua Liu – Co-founder/CEO, SeamlessMD
6. Creating a culture of innovation in your organization – Starting with yourself!
Hosted by: The Greater Toronto Area Chapter
Track: Culture of innovation
Culture eats strategy for breakfast!  At all levels of an organization, having the time and space for creativity and out-of-the-box thinking, as well as the flexibility to explore new opportunities can be challenging. Further, aligning these activities directly to an organization's strategic or operational priorities is not often straightforward. For the past 8 years, the Centre for Aging + Brain Health has been providing tools and skills for innovation, not only within their centre but within multiple organizations and individuals across Canada. This approach has helped foster creative thinkers who can explore or leverage opportunities to innovate, even when navigating the unknown to get a highly impactful outcome. Through a moderated panel discussion, fueled by questions from the audience, CABHI will share their expertise from the brain health and aging innovation sector to demonstrate how to creatively solve problems in health human resources, partnership development, models of care, and capacity building.
Breakout Learning Objectives:
Showcase the lessons from CABHI's organizational development and ongoing projects that illustrate how to foster innovative capacity within leaders, staff, and both known and not-yet-known partners
Familiarize participants with leadership skills and tools that support out-of-the-box thinking and creativity at all levels of an organization
Demonstrate the power of knowledge sharing and harnessing lessons learned in accelerating problem solving and creating change
Guide participants in understanding how all levels of an organization can identify resources, partners, and supports that can enable creative problem solving
Explain how to enable organizations to align value propositions and success for innovations within greater system or strategic context
Key Outcomes:
Breakout participants will:
Apply lessons, tools, and skills from a Canadian context to create a culture of innovation in their organization
Receive guidance and feedback on their own experiences fostering innovation capacity in themselves and their organization
Develop new strategies and approaches for knowledge sharing and leveraging developments to create organizational change or deliver creative solution
Apply learnings in how innovation is strategically positioned within their organization, their sector, and the health system
Speakers
Bianca Stern – Executive Director, Health Innovation at CABHI
James Mayer – Senior Manager, Investment & Venture Services, CABHI
Patrick Clifford – Recently retired Director of Research and Innovation, Research Institute, Southlake Regional Health Centre
Our Sponsor

Thank you for your support of the Ontario Health Leaders Summit!
Planning Committee
Thank you to our planning committee for your work in preparing the summit!
James Anderson
Northwestern Ontario Chapter
Nolan D'Souza, CHE
Greater Toronto Area Chapter
Daniela Lockhard
Huron Advisors Canada Limited
Jodi Younger, CHE
Southwestern Ontario Chapter
Michelle Bracken
Hamilton and Area Chapter
Elizabeth Piper
Eastern Ontario Chapter
Valerie Scarfone, CHE
Neon Lights Chapter
CCHL Staff
Alain Doucet
President and Chief Executive Officer
Jaime Cleroux
Executive Vice-President
Francine St-Martin
Director, Conferences and Events
Amy O'Brien
Director, Chapter and Member Engagement
Brianna Lavoy
Manager, Conferences and Events
For more information
Please contact:
Brianna Lavoy
Manager, Conferences and Events
blavoy@cchl-ccls.ca
1-800-363-9056 ext 232