5:00 p.m. - 6:00 p.m. - Networking
6:00p.m. – 7:00p.m. - Speaker
Healthcare Leadership in a Time of Grey Zone of Change. (see video here)
This session is an overview of how understanding the context of Grey Zone Change we are living through helps us make sense of healthcare leadership changes in a pandemic/post-pandemic era. Grey Zone Change is defined as "A space between the current state and the emerging future that is undefined and unknowable." The presenter characterizes the call to lead Grey Zone Change challenges, provides an overview of the Grey Zone of Change and its dynamics and helps attendees understand what will be required of them to lead in an era of environmental, social and governance challenges and opportunities.
Featured Speaker: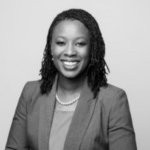 Dr. Yabome Gilpin-Jackson
Dr. Yabome Gilpin-Jackson considers herself a dreamer, doer and storyteller, committed to imagining and leading the futures we want. She is a proud African-Canadian who was born in Germany, grew up in Sierra Leone, and completed her studies in Canada and the USA. She is an Organization Development consultant, coach, writer and curator of African identity and leadership stories. She has 20 years' experience across the private, public, and nonprofit sectors, 10 of which were in health care, where she led and supported organization development and operational change initiatives and many government and ministry-mandated transformations. During her time in healthcare, her roles spanned Executive Director of Organizational Development for Fraser Health, and Regional Lead for Vancouver Coastal Health, as well as a lead for several provincial leadership development and health engagement committees. She led the Fraser Health team to receive the 2019 Organizational Excellence and Impact Award. This award recognized organizations that have demonstrated a sustained commitment to organization development and effectiveness within their own operating practices. In addition, she initiated a Centre for Health Care Leadership and was co-investigator on a Social Sciences & Humanities Research Council Canada (SSHRC)-funded study on the effect of psychological resources on work engagement in partnership with University of British Columbia. The mindfulness training program from this research study led to a BC Health Care Workplace Innovation Award for Fraser Health in 2021. Dr. Gilpin-Jackson is currently Simon Fraser University's first Vice-President, People, Equity and Inclusion and continues to operate Supporting Learning and Development Consulting Inc. (SLD Consulting).
Fees:
CCHL Members: $20.00
CCHL Student Member: $15.00
EHL Member: $25.00
Non-Member: $30.00
Thank you to our sponsors:
The sponsors are pleased to support the Chapters and their activities.  However, please note that speakers for this event have not received any sponsor support for their presentation nor for their work.
Platinum


Gold


Silver