March 21 | 11:00 a.m. - 12:30 p.m. Eastern Time 
Significant concerns impacting healthcare have been highlighted the last 2-3 years, including subjects of health equity, diversity, inclusion, and anti-racism – and their impact on people within organizations, and those living in communities. Leadership imperatives during the recovery stage of a crisis are driven by a people focus on the centre, and currently many Ontario Health Teams, communities and organizations are wrestling both internally (policies, recruitment processes, education) and externally with culturally safe service provision. To impact change in this area, leaders must first understand themselves.
These sessions are intended to support leaders individually on the Equity, Inclusion, Diversity and Anti-Racism (EIDAR) journey and provide actionable information and sharing on leading practices in this space.
SESSION 1 LEAN IN – How to get started? - A Reflective Self Leadership Learning Opportunity Toward Supporting Diversity, Equity, and Inclusiveness Leaders will gain a deeper understanding of:
1. the cultural safety continuum, cultural humility, and competency (tools for individuals to plot their course)
2. ways to get started on a personal learning journey and first steps
3. Allyship, and risks that may cause us to slide back
4. personal biases and how we honour these and then move past them
5. learning to listen
6. confidence to start a journey and feel confident about your place in the journey and how to move forward
Note for all participants - This session will be followed by another follow up session (April 20) in which we will come back for a conversation with the facilitator – intended to support leaders with a safe space for discussion and reflections on learnings, experience, and further reinforce practical application.
Featured Speaker: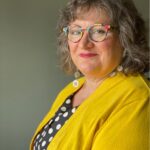 Kelly Brownbill
Kelly Brownbill's spirit name, Wabunnoongakekwe, means Woman Who Comes from the East and she is proud to be Waabizhashi Dodem, Marten Clan.  She is a member of the Flat Bay community of the Mi'kmaq Nation in Newfoundland, and of the Three Fires Midewiwin Lodge.  As an educator on Indigenous issues, she has conducted countless cultural awareness training sessions across a broad range of service sectors including key staff from both the provincial and federal governments. She guides organizations in forging more respectful and equitable relationships with Indigenous communities and agencies. For 10 years she filled the role of peer referral agent for Canada's largest single site employer of Indigenous people. She has also worked with Indigenous communities, both on and off reserve, to develop healthy agency models and to further develop counselling skills with Indigenous clients.  Kelly has twice published Indigenous perspectives in peer-reviewed publications on workplace wellness and addiction and is the Senior Editor and Cultural Advisor for 4 Canoes, a periodical series of books showcasing individual Nations around Turtle Island and Canoe Kids, a series of culturally inspired children's books. For more information, please visit www.kellybrownbill.com
Fee:
This webinar is free of charge - but registration is still required.
*Webinar details will be provided following registration