Career opportunities are presented in the language received.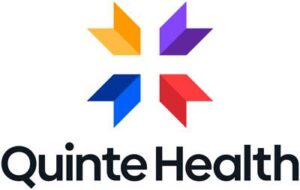 Director
Salary: $67.21 – $79.07/Hour
Job Status: Permanent Full Time
Site: Multi-site
Hours: 37.5/week and travel between hospital sites is required. Directors also participate in Admin on-call rotation.
Position Summary
Reporting to the Vice President and CNE, the Director is a clinical leader who works collaboratively for the development and delivery of services that foster healthier, more connected people and communities, and achieve results reflecting the quintuple aim. The Director provides leadership to a multi-disciplinary team of professionals within the portfolio fostering continuous quality improvement and effective teamwork. The Director will also foster the inclusion of patients and care partners to be involved in the processes of care. A key competency within the role includes building and strengthening partnerships across Quinte Health, within the community sector as well as among organizational stakeholders.
The portfolio vacancy is for Interprofessional Practice, Allied Health, and Post Acute Care. This includes leadership of Restorative/Transitional Care Unit, Complex Continuing Care, and a Behaviour Support Unit; Quinte Health's Infection Prevention & Control Program; and Allied Health including Physiotherapy, Occupational Therapy, Speech and Language Pathology, Recreation Therapy and Respiratory Therapy. Also included in this portfolio is the leadership of an Inter-Professional Practice moving towards a collaborative and integrated professional practice environment. This includes implementation of team-based best practices, enabling full scope of practice contributions to care, clinical support for staff with a focus on novice practitioners and new hires, and ongoing development of our interprofessional teams.
This position offers an exceptional opportunity to shape the future of a broad portfolio that includes in-patient service as well as organizational-wide clinical and practice supports. Examples of opportunities include developing partnerships with community services and moving care into the digital spheres. Also on the planning horizon is a clinical transformation supported by a new information system shared regionally among 6 hospital corporations.
Required
Masters prepared or equivalent combination of education and work experience in a requisite field.
Certificate of Registration in good standing from the healthcare regulatory college representing their profession.
Minimum of 5 or more years of progressive management experience.
3-5 years' hospital experience relevant to the portfolio.
Superior written communication skills.
High level of business planning and acumen, strategic proposal development, and reporting skills.
Demonstrated critical/strategic thinking skills and problem solving.
Proven ability & experience inleading quality improvement at a system level, proactively mitigating risk and utilizing data and information to formulate action plans.
Well-developed negotiation and conflict management/resolution skills.
Demonstrated experience with envisioning and supporting large scale change.
Excellent interpersonal skills with a strong orientation to staff and team growth and development.
Ability to create a collaborative interprofessional working environment which fosters high morale and effective staff relationships and participation across programs and services; and
Alignment of team members to priorities of the organization in an equitable manner.
Duties
Contributes to organizational annual planning and strategic planning.
Sets the appropriate context for the portfolio by translating Quinte Health strategic directions and objectives into team -specific goals and objectives.
Develops new or expanded programs and services, including proposal/business plan development, and manages the resulting implementation.
Creates team cohesion and shared purpose leading to highly effective outcomes.
Seeks out academic partnerships to provide opportunities within Quinte Health and to create a learning environment for all team members.
Engages with Health Experience Partners to co-design and collaborate on programs, processes, policies, and quality improvement initiatives.
Establishes and maintains external/internal partnerships and linkages and establishes communication strategies to ensure the appropriate involvement of stakeholders in service development considerations.
Develops the portfolio for human resources including short- and long-term needs and succession planning.
Supports the professional development and reflective practice of direct reports.
Develops in collaboration with Medical Directors and other stakeholders, the annual operating and capital budget submissions for the program.
Ensures the appropriate actions for the delivery of services within approved budget.
Monitors and evaluates to achieve efficient and effective resource utilization (including LOS, case mix, clinical volumes, patient throughput, resource utilization and financial goals).
Works with program providers to improve performance, clinical outcomes, and patient experience.
Provides feedback to Department Chiefs regarding credentialed staff as requested for human resource plans, credentialing, and privileges.
Directs the thorough investigation and resolution of patient complaints, adverse events, and patient incidents.
Liaises with regulatory bodies and leads investigations as required for the organization.
Fosters a team culture of continuous quality improvement.
Participates in the local Ontario Health Team environment on priority action teams within communities of Hastings Prince Edward that support the care needs in the local healthcare system.
Other duties as assigned.
About Us:
Our family of four hospitals play an integral role in improving lives and creating healthier communities. We work together as one team across our hospitals to provide local and regional health care services, and also work in partnership with our communities to improve access to high-quality care, close to home. We are incredibly fulfilled by the work that we do, and proud of our dynamic teams of staff, physicians and volunteers who care deeply about our patients, and each other. We don't just serve our communities; we are part of them. We live here, raise our families here and, quite often, retire here in the community that we love. Quinte Health is always looking for compassionate, dedicated people to join our team. We have a wide range of exciting roles, some which involve working across more than one of our hospitals, and some which are situated at just one hospital.
Apply Online:
https://qhc.njoyn.com/cl4/xweb/XWeb.asp?tbtoken=ZltaRB9fDVBwZ3ADQFFcHE9IAREraVVacCRMW1AMfXleXkAdKkIfcBFycjEYGhJUTXFlF3U%3D&chk=ZVpaShM%3D&clid=76411&Page=JobDetails&Jobid=J1123-0723&BRID=351051&lang=1