On behalf of the Canadian College of Health Leaders and its Board of Directors, we would like to congratulate Marc Bilodeau, FCCHL and Sue L. LeBeau, FCCHL on attaining Fellowship status in the College.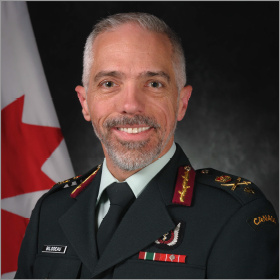 The Fellowship is the highest professional designation awarded by the College and recognizes members who have demonstrated outstanding leadership, who have had an impact on the Canadian health system through their leadership and engagement, and who are motivated to continue to influence future leaders through their involvement in the Fellows Program and the CCHL.
The College officially launched a redesigned Fellowship program in June of 2021 called the Fellowship Select Program. The process of going through the Fellowship Select Program is one that includes a rigorous peer-review component. Marc and Sue enrolled to the refreshed program shortly after its launch. We are pleased to announce that they are the Fellowship Select's first two graduates.
Major-General Marc Bilodeau, FCCHL is the Surgeon General of the Canadian Armed Forces with over 20 years of experience having been exposed to numerous leadership opportunities during his career. He served in Afghanistan, Europe and across the country to finally settle in Ottawa in recent years. Marc's Fellowship Career Impact Paper focused on leading culture change in health care.
Sue L. LeBeau, FCCHL is the CEO of the Red Lake Margaret Cochenour Memorial Hospital, a Governor on Northern Ontario Medical School University's Board, and a long time active CCHL member. She is a northern Franco-Ontarian who is passionate about leadership development, creative solutions, and the great outdoors. As a nurse, educator and leader, Sue is experienced in hospital, primary, nurse practitioner and community care, as well as in post-secondary and post-graduate education. Sue's Fellowship Career Impact Paper focused on insights on transitioning to a senior executive role.
If you would like more information on the Canadian College of Health Leaders' Fellowship Select Program, please click here.