As I look back on this challenging year, I am struck by the realization that the College had, by all empirical accounts, an excellent year. Notwithstanding the pandemic, an assessment of our key metrics indicates that we maintained our relevance and provided valuable support to health leaders across the country during these difficult times.
If you glance at our year in review infographic, you will see that our membership growth has crossed the 4000 barrier. But more importantly, we have crossed the 2,000 certified health executive member threshold as well. We now stand at 50% of our members holding the CHE designation.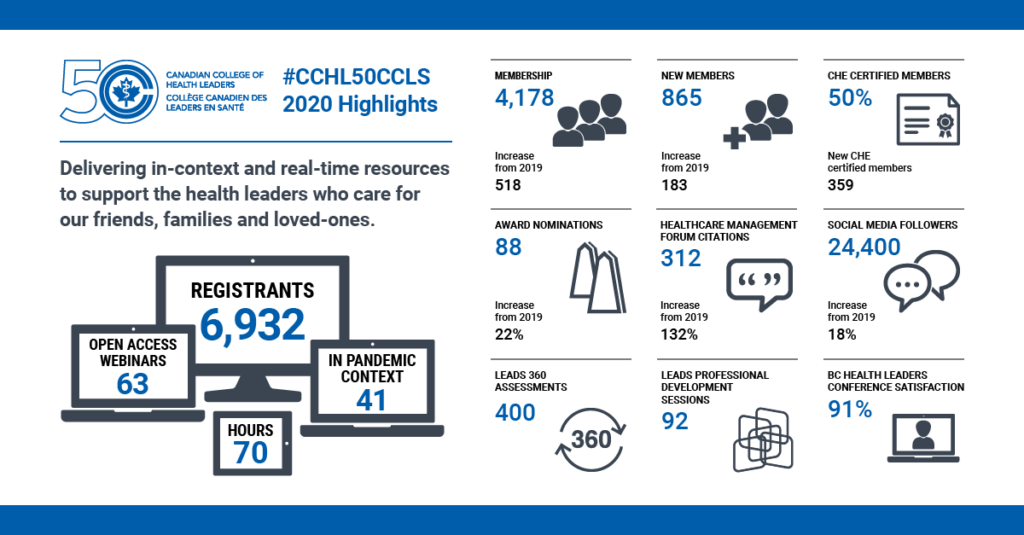 Likewise, if you look at our webinar numbers, we delivered an extensive array of pandemic and crisis focussed webinars and other educational sessions, reaching nearly 7,000 registrants over the course of the year. This is an addition to the nearly 100 LEADS-based professional development sessions we delivered.
It became clear to us as the pandemic progressed that individual health leaders, across the country and across the continuum of care, realized that you needed support and skill development to get through this crisis and to prepare yourself for the next challenge. The management team, Board and staff of the College look back on the year with pride that we were able to support so many of you in the current context and circumstances.
When the pandemic was declared in March, the staff and Board of the College focussed on four key priorities. The first was taking care of our staff and volunteers, the second was ensuring the financial and operational viability of the College, the third, as I just described in the previous paragraph, was to deliver real-time and in-context resources and support to our members, and the fourth was to think about, deliberately, what the College would look like as we turn the page on 2020 and look forward to 2021.
On this last point, we are now committed to building a College that is a responsive and empathetic place of support and growth for our members. This means striking a balance between educational and professional development content and building the College as a community of support. As we have begun to say, " fewer talking heads and more holding hands" will be our mantra as we transition into the new year.
We are also committed to bringing leadership to five specific themes that have arisen in the course of the pandemic. You will see our programming, resources and support focussed on leading in a crisis, transforming elder care and long-term care, improving supply chain in healthcare (particularly for PPE), bringing leadership to community and population health, and focussing on frontline health worker mental health and wellness. If you have suggestions on how we can bring leadership to these five dimensions of healthcare, please do let us know.
But notwithstanding the data on our performance and our commitment to content and community, more than anything, I think that 2020 is characterized by a feeling that we can indeed " be in this together". And while we can be proud that we got through 2020, I think it's important that we look forward to 2021 with renewed energy and commitment to bring in the best leadership to the care that is provided to our friends, families and loved ones.
As you know, 2020 was the 50th anniversary of the College. It was not the celebration we had anticipated. But we did prove to ourselves that we can be helpful and supportive to all of you, health leaders across Canada, and that we can do our part, day in and day out, in the delivery of care, as we survive this crisis, and prepare for the next challenge.
Thank you for all that you do, and if we can do anything at all to help you bring this year to a suitable conclusion and to help you embark on 2021 with a renewed sense of resilience and purpose, I am eager to hear from you.
Our programming and resources will remain in virtual mode throughout 2021 but we do look forward to seeing all of you in person again before too long. Until then, take care.
Alain Doucet, MBA
President & CEO