When I wrote to our members a year ago, I said that I was struck by the fact that despite the pandemic, the Canadian College of Health Leaders had an excellent year. And here I am again inclined to say nearly the same thing. The entire team at the College's national office, our chapter executives, our corporate partners and our Board of Directors have all worked hard in the past year to provide best-in-class leadership development, member support and career advancement services for health care leaders across the country and across the continuum.
In our 2021 infographic, we are focusing on three north star metrics (a north star metric is a measurement that's most predictive of long-term success) that provide evidence of our ongoing impact and relevance, and more importantly, the engagement that has been created with individual health leaders. For the second consecutive year, we have secured more than 700 new members, with an all-time high of 721 this past year, culminating in over 1400 new members since the beginning of the pandemic. Equally gratifying is the fact that fully 50% of our members hold the CHE designation and in the past year we graduated an all-time record number of new designation holders at 252. This means we have celebrated more than 440 new CHEs since the beginning of the pandemic. Our professional leadership development services continue to be in high demand as shown by the number of 360 assessments we have delivered in the last two years totaling over 1000, with close to 600 in 2021.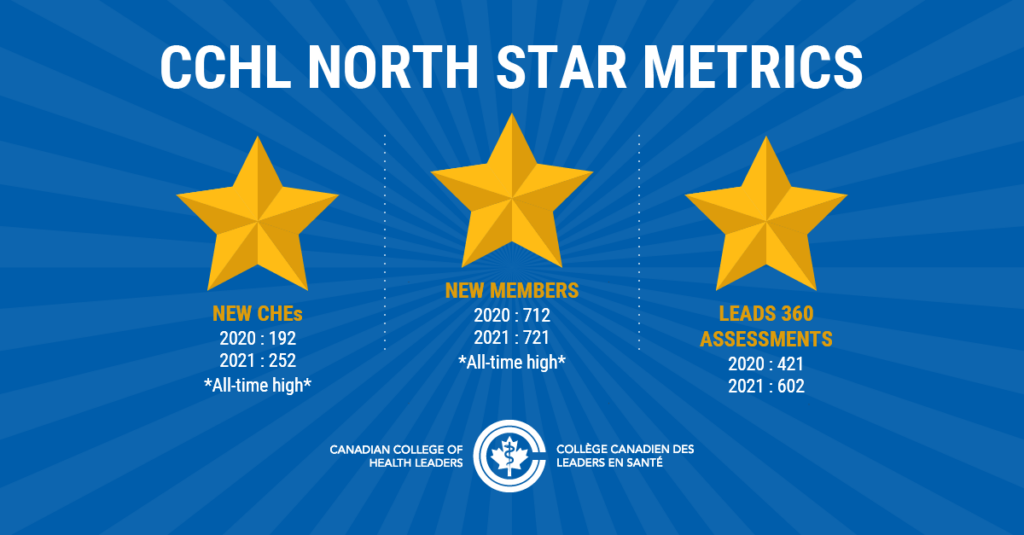 Beyond the metrics, I am extremely proud and grateful for the performance of our team and the numerous achievements delivered in 2021:
Implementation of the first Board of Directors election cycle under our new governance skills-based model
Creation and launch of the inaugural Ontario Health Leaders Summit
Completion of a comprehensive member survey
Completion of a strategic visioning exercise
Refresh and relaunch of the Fellows designation
Extensive research and dissemination of evidence-informed guidance and perspective on "Leading in a Crisis"
Hosting the first-ever virtual National Health Leadership Conference and 2nd virtual Honouring Health Leadership event recognizing health leadership excellence across the country
Hosting 6 virtual HPRS roundtable sessions
Launch of the re-branded Canada West Health Leaders Conference
Creation and launch of a leading-edge member engagement and leadership development platform called the CCHL Circle
Revision of our Code of Ethics and self-assessment tool
Record number of downloads of Healthcare Management Forum reaching close to 225,000
Completion of a comprehensive 2022-2024 strategic planning process

Our new Strategic Plan will be revealed to members and collaborators in February. This will include an updated purpose, new value action statements, and a commitment to three priority pillars: connected community, national voice, and career journey. We will also maintain our focus on real-time and in-context pandemic support to members and leaders for as long as necessary.
During another challenging year for health leaders across the country our chapter volunteers have continued to support and engage their members through almost 60 events. We thank the Chapter executive members for their commitment to advancing health leadership and life-long learning throughout these difficult times.
Lastly, some of you may have read the article written by our Director of Research and Leadership Development, Jaason Geerts, PhD, that was published in the Hospital News. If you missed it, you can access the article here. This article nicely captures our advice to health leaders and organizational development executives going into 2022.
As I write these final lines, the pandemic appears to be gaining momentum once again, and is poised to beat us down, once again. At the College, we remain focused and committed to deliver on our promise of professional development, community, and career support today, through 2022 and beyond. Whatever you need, whenever you need it, please let us know and we will do our best to see you through the current challenges and to pursue new leadership opportunities.
As always, my sincere thanks to our national team, chapter volunteers, corporate partners and Board of Directors for your commitment and engagement.