The Canadian College of Health Leaders is proud to announce that bioMérieux, corporate member since 2018, has been named recipient of the 2023 President's Award for Outstanding Corporate Membership in the College. This award recognizes a corporate member who has consistently helped the College achieve its purpose, values and strategic directions.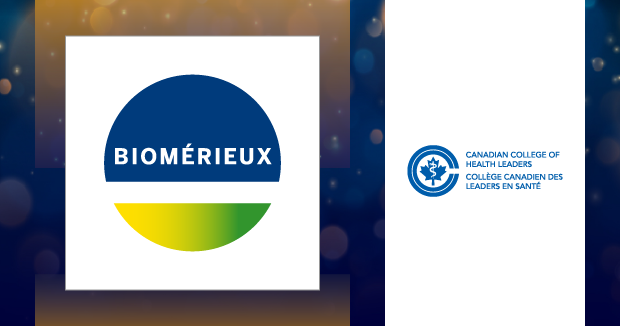 CCHL is awarding this prize to bioMérieux in recognition of the organization's leadership role in the creation of the inaugural Colloque francophone des leaders en santé conference in September 2022. The creation and delivery of a leadership conference solely in French was long overdue and when the College decided, in collaboration with our Quebec Chapter and our colleagues across francophone Canada, to create the Colloque, bioMérieux stepped up right away as presenting sponsor. 
College CEO Alain Doucet remarked "When we create a new conference or service for our members and one of our corporate partners steps up right away to show their support, it really gives the team a huge boost of confidence and momentum. We are very grateful for bioMérieux's support".
A global leader in in vitro diagnostics for more than 60 years, bioMérieux has always been driven by a pioneering spirit and unrelenting commitment to improve patient health and ensure consumer safety in more than 160 countries. Present in Canada for 30 years with over 90 employees, bioMérieux provides diagnostic solutions that deliver actionable diagnostics information addressing public health stakeholders' needs and challenges to improve infection disease management and to fight against antimicrobial resistance (AMR).
The President's Award is given annually to a corporate member in good standing who has at the minimum five years of continuous involvement with the College and has supported CCHL activities and programs in a tangible manner. In addition, the successful nominee has provided advice on ways and means to enhance the College's corporate membership program and assistance to the College in the achievement of its objectives.
This award is part of our CCHL National Awards Program. and will be presented at the Honouring Health Leadership event on June 4, 2023.
For further information and/or to arrange an interview, please contact:
Christian Coulombe
Vice-President, Marketing & Membership
Canadian College of Health Leaders
613-235-7219, ext. 213
ccoulombe@cchl-ccls.ca