The Canadian College of Health Leaders and Johnson & Johnson Medical Devices Companies are pleased to announce the recipients of the 2020 Robert Wood Johnson Awards. Established in 1956, the Robert Wood Johnson Awards are presented to students from six Canadian universities offering a Master of Health Administration. Recipients are selected by their respective faculty for their individual achievements and promising contributions to health services management.
Congratulations to our award recipients!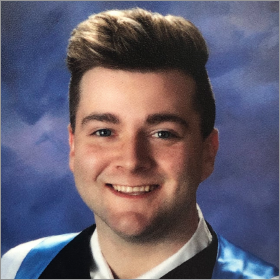 Peter Richard
Dalhousie University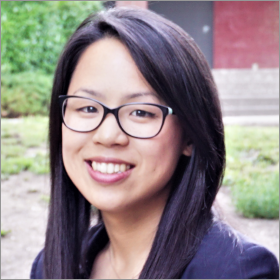 Yvonne Huang
University of British Columbia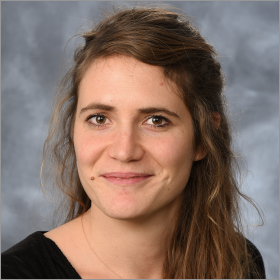 Lucy Schneider
Université de Montréal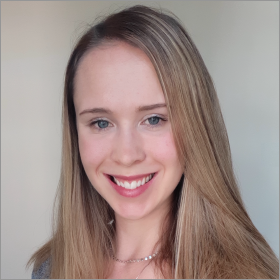 Jordyn Baldry
University of Alberta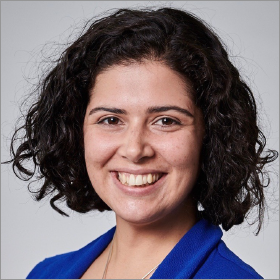 Anya Marion
University of Ottawa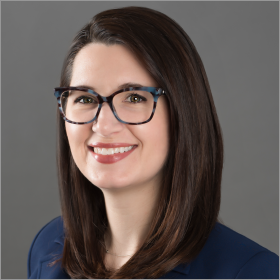 Phoebe Smith-Chen
University of Toronto
These awards, sponsored by Johnson & Johnson Medical Devices Companies, are part of our CCHL National Awards Program.

About our recipients
Peter Richard, Dalhousie University
Peter Richard, a Nova Scotian native, obtained his Bachelors of Science in Biology from Dalhousie University before obtaining his Masters of Health Administration at the same institution. His interest in the Canadian healthcare system is rooted within his family's involvement with the healthcare sector, and was further enhanced while working for the Health Information Services Department at the Nova Scotia Health Authority. While enrolled in the MHA Program, Peter was elected to be a First-Year Student Representative and later elected as President for Dalhousie's Association of Health Administration Students. Peter also volunteered as a Junior Volunteer at the Halifax Outreach Prevention Education Support (HOPES) Health Clinic during his first-year of the MHA Program, then sat on the HOPES Board of Directors during his second-year. He completed his MHA Residency with the Occupational Health and Safety Unit within the Regulatory Operations and Enforcement Branch at Health Canada, where his passion for team functioning, interprofessional collaboration, and leadership was enhanced. Peter is keen on advancing the Canadian healthcare system and wants to gain expertise in quality improvement and project management.
Yvonne Huang, University of British Columbia
Yvonne graduated with a Bachelor of Science in Pharmacy in 2013 from UBC and completed her pharmacy residency with the Lower Mainland Pharmacy Services in 2014. Upon completion of her training she has primarily worked as a clinical pharmacist at Surrey Memorial Hospital in the emergency department. During this time she has been involved with various interdisciplinary pilot projects in the emergency and with the infectious diseases program. Since starting the UBC MHA program she has transitioned into an interim position as a Pharmacy Dispensary/Parenteral Services Supervisor. In this capacity she has grown her experience in hospital pharmacy operations, quality assurance projects and implementation of pharmacy processes for expanded services including in injectable opioid agonist therapy.
Lucy Schneider, Université de Montréal
Lucy Schneider has always been interested in the field of health. She began her career by studying nutrition at the Geneva University of Health, graduating with a Bachelor of Science in 2015. She then worked as a clinician in various healthcare institutions in Switzerland for more than two years. In parallel to her professional activities, Lucy was actively involved in promoting health as vice-president of the Dietician's Association of Geneva. In this role, Lucy worked to promote balanced diets and regular physical activity as key prevention of non-communicable diseases throughout the region. Lucy has continually sought to improve care practices, starting with her own. Following in this vein, she undertook a Master's degree in Health Services Administration at the Montreal School of Public Health in order to acquire the tools that would help her improve health care systems. This training enabled her to gain essential knowledge and skills to face the numerous challenges confronting our health systems. The enriching experiences of studying abroad, working as a research assistant for the University of Montréal and completing a master's internship, have broadened her outlook and offered new perspectives to bring into her role as a future administrator. Today, her goal is to integrate decision-making structures that contribute to the optimization of health institutions' operations while remaining alert to imminent future issues like sustainable development or social inequalities in health. Overall, Lucy is dedicated to the value of each individual, as well as the responsibility and commitment of the next generation to attend to progressive improvements in health systems.
Jordyn Baldry, University of Alberta
After graduating with her Bachelor of Science in 2018, Jordyn decided to pursue a graduate degree in public health as a way to combine her interests in psychology, health, project management, law, and philosophy. During her time at the University of Alberta's School of Public Health, she volunteered for the Canadian Mental Health Association and created an engagement framework for the Injury Prevention Centre in collaboration with a small group of other students. Following this, she relocated to British Columbia and completed a practicum with BC Mental Health and Substance Use Services. During this time, she developed a provincial evaluation plan and took part in many project management activities related to the BC Crisis Line Enhancement Project. As a recent graduate of the University of Alberta, Jordyn is working as a project coordinator for the Provincial Health Services Authority in British Columbia. Her current interests involve expanding her knowledge and experience in project implementation, project evaluation, and stakeholder consultation.
Anya Marion, University of Ottawa
After a few years of providing maternal and newborn care as a registered midwife, Anya Marion shifted her focus to the challenge of reducing burnout rate for health care providers. Recognizing the need to address this health human resources issue, Anya attended the Telfer School of Management Master of Health Administration program, at the University of Ottawa to build her leadership toolkit in order to tackle this challenge. Anya combines her health care provider background with her new knowledge from her education in her role as a HR Business Leader at The Ottawa Hospital. She is currently working with the human resource leadership team supporting staff so that they can deliver world class care. She is excited by the opportunities to advance health human resource planning in this next phase of her career.
Phoebe Smith-Chen, University of Toronto
Phoebe Smith-Chen is currently Program Lead of Patient Experience at the Ontario Hospital Association. Previously, Phoebe worked in Patient Experience at Michael Garron Hospital in Toronto and was a speech-language pathologist for over ten years in rehabilitation, palliative care and acute care settings. In addition to her University of Toronto IHPME Health Administration degree, Phoebe holds Master's degrees in Bioethics and Speech-Language Pathology, and certificates in health law and leadership. She is dedicated to improving the health of Canadians through creative and effective collaboration. Phoebe is honoured to receive the 2020 Robert Wood Johnson Award, named after a health leader who had profound impact on world health through innovation and dedicated public service. In his spirit, she aims to diligently work towards improving the health and wellbeing of others in ways that are most meaningful to them.