The Canadian College of Health Leaders is proud to announce that Unity Health Toronto was named recipient of the 2023 Energy and Environmental Stewardship Award.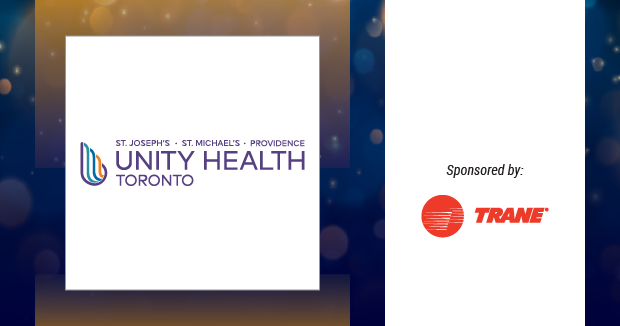 Unity Health has implemented organizational wide initiatives demonstrating stewardship in sustainability through the reduction of energy usage, the conservation of natural resources, and waste diversion – from energy efficient building systems and solutions, sustainability awareness programs, and waste management initiatives. With Unity Health's aspirational goals, the organisation is well on its journey towards sustainable and net zero healthcare. The Director of Project Engineering and Energy created an Energy Team in 2019, and since then, Unity Health has had three years of consistent energy savings.
In 2022, Unity Health implemented various projects that resulted in significant savings in electricity and water consumption, such as LED lighting retrofit and chiller plant optimization. In 2021, Unity Health received multiple awards, including the Energy Manager of the Year Award for the organization's commitment to energy-efficient practices and top-performing Canadian hospital awards from the Canadian Coalition for Green Health Care in sustainability leadership, pollution prevention, and energy (awarded to Providence).
The Energy and Environmental Stewardship Award recognizes a progressive healthcare organization that has implemented organizational wide initiatives demonstrating environmental responsibility through the reduction of energy usage, the preservation of natural resources and effective waste diversion solutions.
The award is sponsored by Trane Canada. Trane, the world leader in creating and sustaining safe, comfortable and energy efficient environments – improves the performance of buildings around the world. Trane solutions optimize indoor environments with a broad portfolio of energy efficient heating, ventilating and air conditioning systems, building and contracting services, parts support and advanced controls for commercial buildings
This award is part of our CCHL National Awards Program and will be presented at the Honouring Health Leadership event on June 4, 2023.
For further information and/or to arrange an interview, please contact:
Christian Coulombe
Vice-President, Marketing & Membership
Canadian College of Health Leaders
613-235-7219, ext. 213
ccoulombe@cchl-ccls.ca