Health Communication in a Time of Misinformation 
Presented on September 28, 2022
In this presentation, Dr. Hodson will discuss health communication in a time of misinformation. Drawing on her research on COVID-19 misinformation, her new research program examining cancer misinformation and social media influencers, as well as her own experience as a cancer patient in Island Health, Hodson will weave together theory and practical experience to discuss drivers of misinformation in health care. The presentation will begin with a definition of misinformation, and a discussion of why health communication is particularly susceptible to the challenge of misinformation. Next it will show how, though health misinformation is not a new phenomenon, the rise of participatory communication technologies like social media have increased the scope of the problem, and must prompt new approaches to addressing the problem. Finally, Hodson will discuss ways that health leaders can adjust their own communication practices to be more effective at promoting evidence-based information to the public.
Featured Speakers: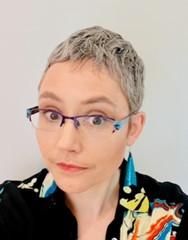 Jaigris Hodsom 
Associate Professor; Royal Roads University
Jaigris Hodson, Ph. D. is an Associate Professor at Royal Roads University, the Canada Research Chair (tier 2) in Digital Communication for the Public Interest, and founder of the Digital Public Interest Collective. Her SSHRC and CIHR funded research examines the ways that misinformation can be mitigated through digital communication efforts, particularly those targeted at the research community. Thus her current work examines such interdisciplinary topics as educational interventions to address COVID-19 related misinformation, the online harassment of diverse researchers, the discourses of conspiracy theories, and ecological approaches to understanding misinformation in a modern context.