Authors:
Shauna Fenwick and Erna Hagge
Many health systems across Canada have adopted LEADS in a Caring Environment (LEADS) as their leadership development framework; some are now looking for a complementary system that measures leadership effectiveness. Given the vision, mission and values of the Canadian College of Health Leaders, such a complementary system must be similar in approach to LEADS: leading edge and adaptive to the changing needs of health care organizations.
This paper is a review of selected literature on critical influencers in the success of performance systems, which in turn influence organizational success. The discussion is informed by current literature on high performance organizations, performance and talent management, engagement, adaptive leadership, neuroscience and positive psychology in both the public and private sectors.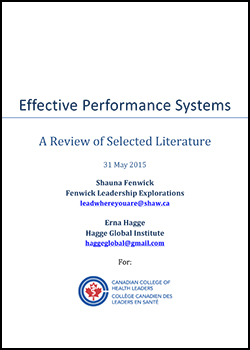 The intention of the paper is to provide a systems view that can inform LEADS users who want a bridge between the development purpose of the LEADS framework and their needs to measure leadership performance.
For more information on this report, please contact us at leads@cchl-ccls.ca