The Canadian College of Health Leaders and Johnson & Johnson Medical Devices Companies are pleased to announce the recipients of the 2021 Robert Wood Johnson Awards. Established in 1956, the Robert Wood Johnson Awards are presented to students from six Canadian universities offering a Master of Health Administration. Recipients are selected by their respective faculty for their individual achievements and promising contributions to health services management.
Congratulations to our award recipients!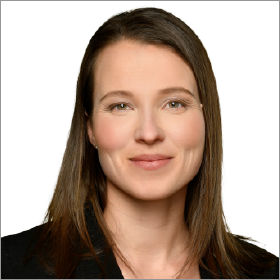 Claudia Louise Côté
Dalhousie University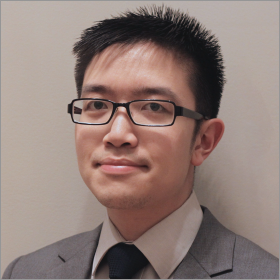 Anthony Le
University of British Columbia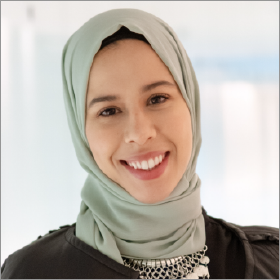 Jalila Mafhoum
Université de Montréal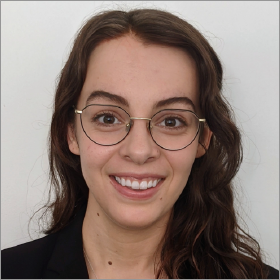 Mara Steiner
University of Alberta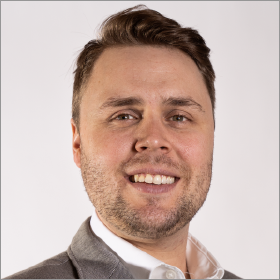 Sean O'Reilly
University of Ottawa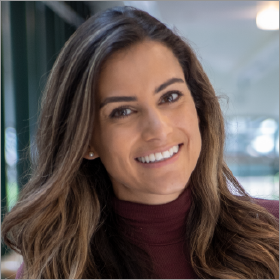 Christine McGovern
University of Toronto
These awards, sponsored by Johnson & Johnson Medical Devices Companies, are part of our CCHL National Awards Program.
About our recipients
Claudia Louise Côté, Dalhousie University
Claudia Côté completed her Bachelor of Science at McGill University in 2012, followed by her Doctor of Medicine degree at Dalhousie University in 2016. She then went on to pursue sub-specialty training in cardiac surgery at Dalhousie University, during which time she undertook a Master of Health Administration degree at the same institution. She is currently completing her thesis examining the social determinants of adverse outcomes in patients undergoing aortic surgery in Nova Scotia. She is also completing her internship with the Heart Health Program at the Nova Scotia Health Authority, where she helped create an early discharge pathway for transcatheter valve procedures and is working on innovative solutions to improve continuing education among nursing staff. Claudia's research interests include addressing healthcare disparities at a population level and quality improvement within institutions. Claudia is interested in expanding her experience in project management to improve quality at all levels of patient care.

Anthony Le, University of British Columbia
Anthony graduated from the University of British Columbia with a Bachelor of Science in Pharmacy and became registered with the College of Pharmacists of BC in 2014. During his undergraduate studies, he worked as a research student at the Michael Smith Genome Sciences Centre, pharmacy assistant at various community pharmacies, and he served as a medical first responder and officer for the St. John Ambulance Brigade. Since graduation, Anthony has practiced pharmacy in numerous settings throughout BC including specialty compounding, retail, and independent community practice. He is also regularly engaged in pharmacy practice education in the UBC Entry-to-Practice PharmD Program and the UBC Canadian Pharmacy Practice Program. As a UBC Master of Health Administration student, Anthony has taken on additional roles including contributing to interprofessional graduate program development in the UBC School of Population and Public Health, virtual care program evaluation in the Fraser Health Authority, and quality review board membership. Anthony has professional interests in patient care quality and health policy and systems evaluation. He is committed to improving the healthcare system for all British Columbians.
Jalila Mafhoum, Université de Montréal
Motivated to embody the positive change she wants to see in the world, Jalila is a young Montrealer who seeks to improve the awareness of issues related to mental health, while defending the rights of cultural minorities and women. In 2019, she obtained a Bachelor of Science from the Faculty of Nursing at the University of Montreal. Her academic and professional experiences in the Quebec health system greatly increased her interest in transformational leadership and improving the accessibility and quality of health care. She continued her studies in the Master of Health Services Administration at the School of Public Health of the University of Montreal. Through this master's degree, she improved her tools and strengthened the skills that will guide her in her desire to improve health services. At the same time, Jalila works at the heart of the management of cases affected by COVID-19 at the Montérégie Public Health Department. In addition, the laureate stands out for her community involvement in various volunteer avenues, whether through her involvement in the relevant inclusion sub-committee of the Association québécoise des jeunes parlementaires or through her role as co-founder of the Visions Plurielles platform intended to bring the voice of young women from diverse backgrounds to the public sphere. Moreover, she firmly believes that the inclusion and representation of women and people of diversity in the various strategic and decision-making bodies of health organizations is necessary on the one hand, to better meet the needs of the population, while on the other hand, to contribute to the emergence of creative and innovative solutions. As a successor in a line of heath leaders, she is committed to continuing to apply her knowledge and skills to contribute to the creation of values in the care and improvement of the health of the general population.

Mara Steiner, University of Alberta
Originally from Medicine Hat, Alberta, Mara Steiner is a second-year Master of Public Health student at the University of Alberta, specializing in Health Policy and Management. Prior to entering her MPH, Mara previously completed a bachelor's degree in Science at the University of Alberta, majoring in Biology and minoring in Philosophy. Her primary areas of interests in public health and healthcare include health ethics, policy development and health equity. Mara has had previous experience delivering community-based programming in non-profit organizations within Edmonton. Most recently, she completed her practicum with the Clinical Ethics Service at Alberta Health Services, giving her the opportunity to learn and work on policy from an ethics lens. Upon graduating for her degree this year, Mara hopes to pursue future work at the intersection of health policy and health ethics.
Sean O'Reilly, University of Ottawa
Growing up, my life and schedule revolved around what sport was in season – health and physical activity were my passion. In 2009, I received a Bachelor of Physical and Health Education and a Bachelor of Life Sciences from Queen's University. After that, I completed the Diagnostic Cardiac Sonography program at Mohawk College and have enjoyed over 8 years of providing cardiac ultrasounds at the Ottawa Heart Institute and Renfrew Victoria Hospital. During this time, I was fortunate to support a multi-facility echocardiography partnership, train cardiology residents and ultrasound students, and facilitate the successful completion of departmental accreditation. My career goal had always been to become a leader in the healthcare industry, so my next step was to enroll in the Master of Health Administration program at the Telfer School of Management at the University of Ottawa. During my residency at the Perley and Rideau Veterans' Health Centre, I was able to lead a team that focused on improving the end-of-life experience provided at the facility. I look forward to using what I have learned to find innovative ways to improve the patient experience.
Christine McGovern, University of Toronto
Christine McGovern (RN, BScN) is the Clinical Manager for the SickKids COVID-19 Testing Centre and Community Outreach in Toronto and completing her MHSc in Health Administration at the Institute of Health Policy, Management and Evaluation at the University of Toronto. Her career started at SickKids in 2016 as a registered nurse on the Pediatric & Respiratory Medicine, Intermediate Care Unit. Her nursing leadership excelled and she was elected as the Co-Chair of the Registered Nurses Council in 2018, leading the organization and acting as a direct liaison of the nursing voice to numerous leadership committees. She became deeply involved in the care of children who have complex medical conditions and passionate about caring for those with Cystic Fibrosis, which award her the "Above and Beyond Healthcare Team Award" in 2020. Christine held the Project Lead for SickKids Mobile Swab and Community Outreach program in the summer 2020, supporting patients at congregate care settings, community homes, and shelters across Toronto. Christine is committed to community outreach and advancing the idea of a "hospital without walls". Christine enjoys being physically active, spending time at home on Prince Edward Island and volunteering for organizations that include Cystic Fibrosis Canada, 6ix Kids Yoga teaching yoga and mindfulness to children, and Nightwood Not-for-Profit Theater.

Watch the video below from the presentation at the virtual Honouring Health Leadership event on June 16, 2021.