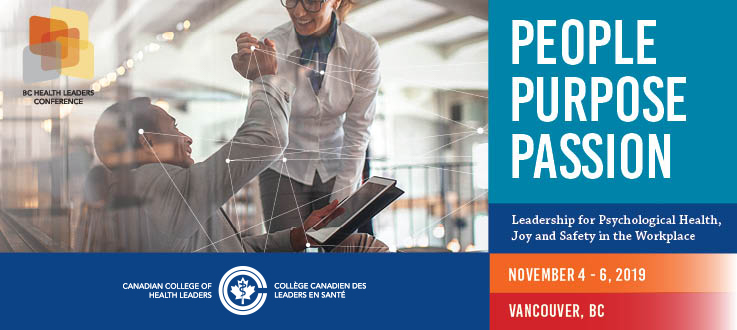 A heartfelt thank you to all our delegates, sponsors, speakers, facilitators and planning committee who, each in their own way, brought this conference to life and made it such a resounding success!
Join a gathering of over 400 health system decision-makers from across Canada at the Canadian College of Health Leader's annual BC Health Leaders Conference. Participants get hands-on practical learning to apply in their organizations, and benefit from interactive, unique and innovative learning experiences.
This year's theme is "People, Purpose, Passion: Leadership for Psychological Health, Joy and Safety in the Workplace". Don't miss out on this opportunity to exchange ideas and discover innovative approaches to address health leadership challenges.
The conference takes place November 4 to 6, 2019 at the Sheraton Vancouver Wall Centre Hotel in Vancouver, BC.
Program
To view the conference program, click here.
To access past Canada West Health Leaders Conferences, click here.