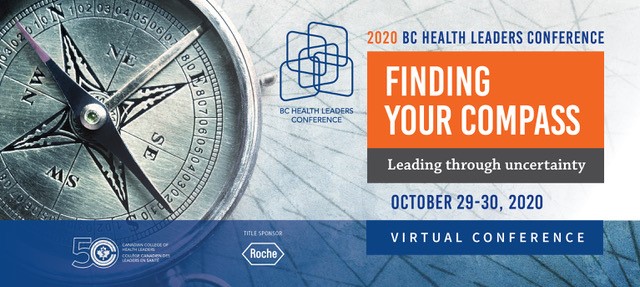 A heartfelt thank you to all our delegates, sponsors, speakers, facilitators and planning committee who, each in their own way, brought this conference to life and made it such a resounding success!
Attend the 2020 BC Health Leaders Conference to learn how to better navigate the health system challenges that are being faced across the country. Discover how leadership through innovation, creativity, and flexibility can help you find and trust your leadership compass. Explore practices to help guide yourself and others through the issues and opportunities of today's healthcare industry such as:
Establishing guiding principles (national framework, teams, etc.);
Being flexible in your leadership practices;
Leveraging and inspiring your team;
Making decisions in times of fiscal constraints;
Being effective environmental stewards;
Navigating challenging ethical situations; and
Promoting diversity in the workforce.
Program
To view the conference program, click here.
To access past Canada West Health Leaders Conferences, click here.