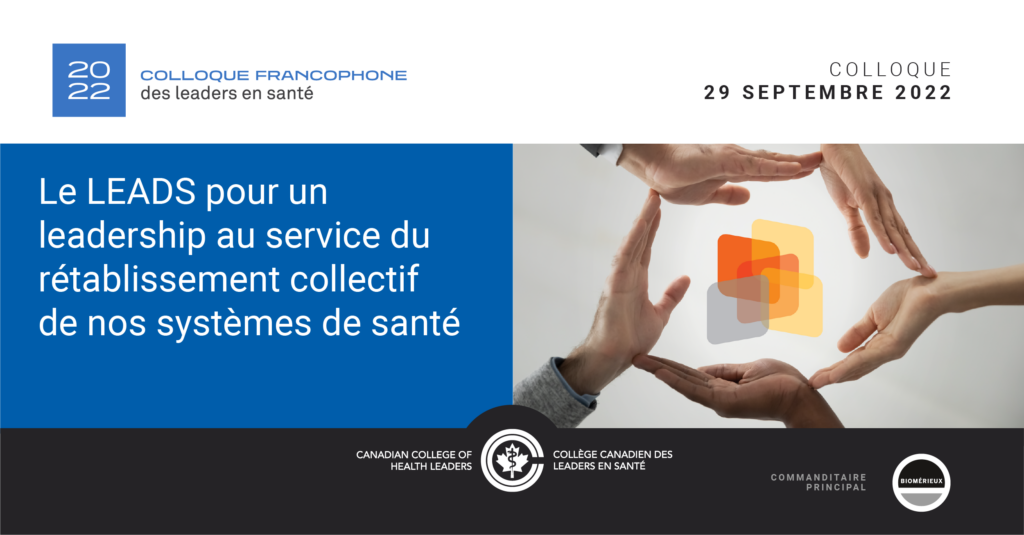 Merci de votre participation au Colloque francophone des leaders en santé. Nous espérons que vous avez apprécié le programme.
Le Collège canadien des leaders en santé (CCLS) est heureux de présenter le premier Colloque francophone des leaders en santé (CFLS). Ce colloque, organisé par le Chapitre du Québec, donnera aux leaders en santé l'occasion d'explorer divers thèmes et de tirer des leçons des défis auxquels font face les leaders en santé. Le colloque, dont le thème sera « Le LEADS pour un leadership au service du rétablissement collectif de nos systèmes de santé », aura lieu au Amphithéâtre du CRCHUM, Montréal le 29 septembre 2022 et est ouvert aux participants de partout au pays.
Les participants à la conférence auront, au terme du Colloque :
Pris connaissance du cadre LEADS, comme moyen de concevoir, de développer et d'appliquer les capacités de leadership dans leurs organisations ;
Trouvé des idées pratiques et des stratégies à mettre en place dans leurs milieux de travail ;
Créé de solides réseaux en participant à des conversations stimulantes ;
Partagé des expériences et points de vue avec des leaders francophones provenant d'autres provinces ; et
Ressenti être mieux équipés et stimulés pour progresser et relever les défis actuels de gestion.
Program
To view the Colloque 2022 program, click here.
To access the previous Colloque francophone des leaders en santé, click here.