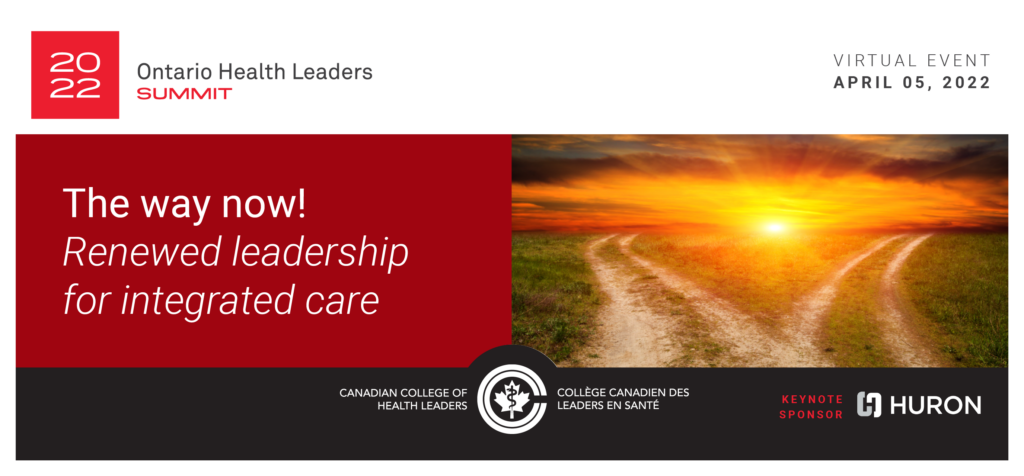 A heartfelt thank you to all our delegates, sponsors, speakers, facilitators and planning committee who, each in their own way, brought this conference to life and made it such a resounding success!
The Canadian College of Health Leaders (CCHL) is pleased to present the Ontario Health Leaders Summit (OHLS). Hosted by the CCHL Ontario Chapters (Eastern Ontario Chapter, Greater Toronto Area Chapter, Hamilton and Area Chapter, Neon Lights Chapter, Northwestern Ontario Chapter, and Southwestern Ontario Chapter) this summit will present an opportunity for health leaders across Canada to explore themes and learn from the challenges that Ontario health leaders are facing. Themed "The way now! Renewed leadership for integrated care", the summit will be held in virtually on April 5, 2022 and is open to participants from across the country.
Summit participants will:
Build strong networks as well as an improved sense of community and support from other leaders facing the same or similar challenges;
Uncover tangible practices, tools, and ideas that can be implemented into their work settings;
Explore innovations that will influence leadership, system, and clinical practice change to provide better care;
Engage with other leaders to develop coalitions to drive effective change.
Program
To view the conference program, click here.
To access past Ontario Health Leaders Summits, click here.