The Award
This award recognizes an article published in Healthcare Management Forum in the preceding year which has helped to advance knowledge in the practice of health leadership. The winner will receive an etched glass trophy. Should the future permit us to return to an in-person event, the recipient will also receive paid travel and accommodations to attend the College's Honouring Health Leadership event, and a complimentary registration to the CCHL National Conference.
Healthcare Management Forum has been publishing for more than 30 years, and is viewed by readers as a credible source of information with lasting exposure.
Eligibility
To be eligible for this award, authors must have published an article in the journal in the preceding year and demonstrate the following: their work is original; the ideas contained in the article stimulate transformative thought and inspire meaningful reform; their findings apply to multiple sectors within healthcare; their article is written in a clear, concise and logical manner; and their article is well researched and documented. The number of article downloads will also be considered.
Nominations
Nominations are not accepted for this award. An award selection committee comprised of Editorial Board members, peer reviewers, and active College members will select a shortlist of applicants and choose an author or group of authors who demonstrate ideas that challenge the traditional notions of health leadership and inspire transformational behaviour. The award winner will be selected based on the eligibility criteria listed above by December 31.
Sponsored by:
2023 Recipient: Ivy Bourgeault, PhD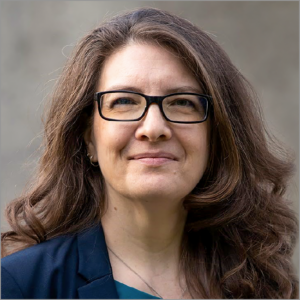 Dr. Bourgeault is a Professor in the School of Sociological and Anthropological Studies at the University of Ottawa and the University Research Chair in Gender, Diversity and the Professions. She leads the Canadian Health Workforce Network and the Empowering Women Leaders in Health initiative. Dr. Bourgeault has garnered an international reputation for her research on the health workforce, particularly from a gender lens.
Her article, co-authored by Jelena Atanackovic, PhD, Kim McMillan, RN, PhD, Henrietta Akuamoah Boateng, PhD, and Sarah Simkin, MD, MSc, inspires meaningful reform through timely, original research involving leaders in several professions including nurses, physicians, midwives and dentists. As a result of COVID-19, an unprecedented level of health leaders are taking leaves of absence. This work calls on those in leadership roles to take an explicit profession- and gender-based approach that recognizes the influence of individual, work, and family circumstances on health worker mental health. 
Past Recipients
Please see our most recent recipients listed below. Full details are available in our Celebrating Leading Practices booklets.
2023 – Ivy Bourgeault, PhD
2022 – Anne Mullin, PhD, MBA
2021 – Dr. Stephen L. Archer, MD
2020 – Gertie Mai Muise